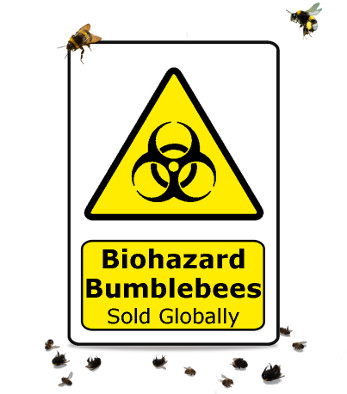 Results from my newly published work, The Trojan hives highlights imported dangers to native pollinators. Over a million commercially produced bumblebee colonies are imported annually on a
global scale for the pollination of greenhouse crops. After importation, they interact with
other pollinators, with an associated risk of any parasites they carry infecting and harming
native bees.
Following 2 years of monitoring, my research has shown how the majority of commercial bumblebee hives we purchased in 2011 & 2012 contained harmful parasites.
We found microbial parasites in 77% of the commercially produced bumblebee colonies we purchased from three producers, which were imported on the basis of being free of parasites. Following this, we found that a number of these parasites were infective and detrimental to both bumblebees and honey bees.
The results demonstrate that commercially produced bumblebee colonies carry multiple, infectious parasites that pose a significant risk to other native and managed pollinators. More effective disease detection and management strategies are urgently needed to reduce the pathogen spillover threat from commercially produced bumblebees.
Please follow and like us: