The relationship between managed bees and the prevalence of parasites 2014
Wild pollinators' health may be at risk from managed bees
Title: The relationship between managed bees and the prevalence of parasites in bumblebees
Authors: Peter Graystock, Dave Goulson and William O. H. Hughes
Journal: PeerJ
DOI: 10.7717/peerj.522
Summary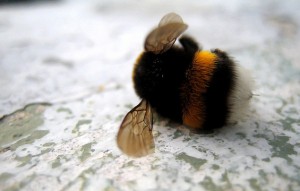 Mixing with managed bees may be to blame for increased diseases in wild bumblebees, prompting concern for their conservation, scientists have warned. It has been discovered that bumblebees suffer from more parasites when they are collected from around sites using managed bees.
Managed honey bees and bumblebees are frequently used by apiarists and farmers for their honey production or pollination services. The introduction of managed bees can increase the number of pollinators competing for resources in a given area and this can have ramifications to native pollinators.
The team of researchers from the Universities of Leeds, Sussex and Bristol placed 10 bumblebee colonies in close proximity to a honey bee apiary and 10 far from the apiary. Using DNA technology, bumblebees were screened for 6 different parasites and one was found to be more prevelant in bumblebees living close to the apiary. In addition, the team collected 764 wild bumblebees from areas around farms using managed bumblebees. Again, these were screened with DNA technology for 6 parasites, 3 of which were found to be more prevalent around greenhouses using managed bumblebees.
Whilst the scope of the study was limited by the number of sites used, this is the first study to use sensitive DNA technologies to screen for a large number of bumblebee parasites in wild bumblebees. The team screened for the three main bumblebee parasites (Crithidia bombi, Nosema bombi and Apicystis bombi), two recently identified parasites in bumblebees (Nosema ceranae, and DWV), plus a traditional 'honey bee' parasite (Nosema apis). Bumblebees in colonies placed around apiaries were more likely to be infected with Crithidia bombi and wild caught bumblebees from around farms using managed bumblebees also had increased Crithidia bombi plus Apicystis bombi and Nosema ceranae.
Lead author of the study, Dr Peter Graystock of the University of Bristol (Previously with the University of Leeds during the study) explains: "DNA screening methods allowed us to identify parasites with greater sensitivity and accuracy than traditional methods; its surprising how many parasites were found in our native bumblebees"
A clearer picture could be gained with more research into this area but these results suggest that managed colonies of bees may increase the prevalence of parasites in bumblebees. Whilst the mechanisms behind this apparent increase in bumblebee infections are unclear, it seems likely that mixing between managed and wild bees is a factor. Such mixing would place wild populations at risk from the effects on host-parasite dynamics. These effects could prove to be a major conservation threat to bumblebees.
For the full article CLICK HERE