Specialization on pollen or nectar in bumblebee foragers 2016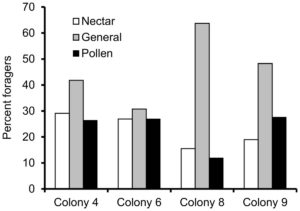 Foraging specialization allows social insects to more efficiently exploit resources in their environment. Recent research on honeybees suggests that specialization on pollen or nectar among foragers is linked to reproductive physiology and sensory tuning (the Reproductive Ground-Plan Hypothesis; RGPH). However, our understanding of the underlying physiological relationships in non-Apis bees is still limited. Here we show that the bumblebee Bombus terrestrishas specialist pollen and nectar foragers, and test whether foraging specialization in B. terrestris is linked to reproductive physiology, measured as ovarian activation. We show that neither ovary size, sensory sensitivity, measured through proboscis extension response (PER), or whole-body lipid stores differed between pollen foragers, nectar foragers, or generalist foragers. Body size also did not differ between any of these three forager groups. Non-foragers had significantly larger ovaries than foragers. This suggests that potentially reproductive individuals avoid foraging.
Authors: Smith, AR., Graystock, P., Hughes, WOH.
Journal: PeerJ
DOI: 10.7717/peerj.2599
To read the full article from the publishers, please click here. If you are unable to gain access, please email me.